Niphargus glenniei was first observed on 19th April 1948 in Pridhamsleigh Cave, near Buckfastleigh, Devon by Brigadier E.A. Glennie of the Cave Research Group, in company with Mary Hazleton, who actually captured the first specimen. G.M. Spooner, of the Plymouth Marine Laboratory examined these first specimens and described them as a new species (Spooner, 1952) named after Glennie himself. 

Niphargus glenniei can usually be easily separated from the other British Niphargus by virtue of its much smaller size. Niphargus glenniei attains sexual maturity at 2.5 to 3mm long (most specimens tend to be 3mm in size), whilst other British Niphargus species are sexually mature at a minimum size of 4 to 6mm (see individual descriptions for approximate adult lengths). The Irish species, Niphargus wexfordensis and male Niphargus kochianus are the nearest species from the British Isles to Niphargus glenniei in size, attaining sexual maturity at about 3 and 4mm respectively.  Other distinguishing features are the lack of spines on the telson lobes; rounded palmar angles on the gnathopods (gnathopod 2 propodus larger than that of gnathopod 1); a reduced number of D-setae on mandible palp article 3; and on uropods 1 and 2 the outer ramus is distinctly shorter than the inner ramus. This latter feature is probably the easiest to see under a microscope and is the most obvious way of identifying the species.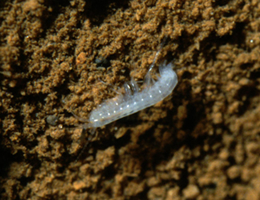 Schellenberg (1938) established the genus Niphargellus, containing the European species Niphargellus arndti and Niphargellus nolli, primarily on the basis of reduced setation of the mandibular palp. Although Spooner (1952) and others considered Niphargellus to be invalid, It was retained and some authors (e.g. Glennie, 1967; Gledhill et.al. 1976; Karaman & Ruffo, 1986) formerly placed N.glenniei in Niphargellus. However another species, Niphargus boulangei also has a reduced number of setae, as does the relatively recently discovered Niphargus wexfordensis from Ireland. Karaman et. al. (1994) therefore concluded that the genus Niphargellus should only be retained for Niphargellus arndti and Niphargellus nolli and that the Niphargus glenniei group (including N. boulangei and N. wexfordensis), with low numbers of D-setae, represents a link between the genus Niphargus, with a fringe of numerous D-setae and the genus Niphargellus with no D-setae. Thus N. glenniei is now considered to be a member of the genus Niphargus (Karaman et. al. 1994 and Gledhil et. al. 1993).
Glennie (1967) states that "Niphargus glenniei is a highly interstitial form", as suggested by its thin body and small size and that the species is "frequent in the Pridhamsleigh and Buckfastleigh caves in the Devonian limestones in South Devon, where its true home is in the very disturbed rock."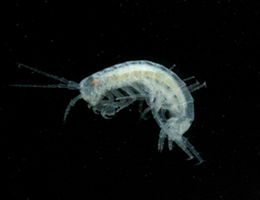 Until 2000, the county of Devon was thought to be the only locality world-wide from which Niphargus glenniei is known. It is endemic to England and was given a Red Data Book K and 5 (Insufficiently Known and Endemic) conservation status by Bratton (1991). It has recently (2007) been accepted on the list of British Biodiversity Action Plan (BAP) species and in addition to the Devon BAP, is on the local BAPs for the Torbay, Teignbridge and Dartmoor areas, which include some of the caves and wells in which it occurs.
Within the North Devon vice-county, it has been recorded from Napps Cave, near Berrynarbor and more recently (2010 and 2009) from three wells, four springs and two boreholes, in the Ilfracombe area in the north and near Tiverton in the east, fairly close to the Somerset border. However, by far the majority of the Devon records are from the South Devon vice-county and include: mines, springs, wells, a borehole and amongst riverine gravels in a spit on the upper reaches of the River Plym. These sites are distributed from the Tavistock and Plymouth areas in the west to the village of Kenton, close to the Exe estuary in the east of the county. Niphargus glenniei is also known from many of the caves in South Devon, with recent (post 1998) discoveries in the Chudleigh, Torquay, Plymouth, Brixham and Berry Head Devonian limestone outcrops.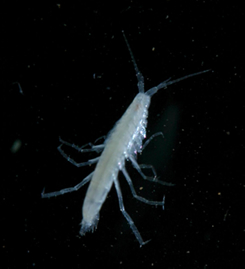 In late 2000, N. glenniei was discovered in a well in granite near Land's End and investigations since 2000 have found the species at six other wells in West Cornwall. In early 2011 the species was recorded in Carnglaze Caverns, an underground slate mine near Liskeard and another well in East Cornwall, with an additional record from a borehole near Wadebridge added in 2013. The species is found in groundwater aquifers ranging in character from Devonian Limestone to the acidic granite of Dartmoor and West Cornwall, with other records in igneous tuff (Ilfracombe area) and to a lesser extent, slate and other strata.