Crangonyx subterraneus, together with Niphargus species are members of the Amphipoda and show the typical "shrimp-like" appearance of the group.  Collectively both Crangonyx subterraneus and the Niphargus species are often colloquially known as 'well shrimps' or 'cave shrimps'.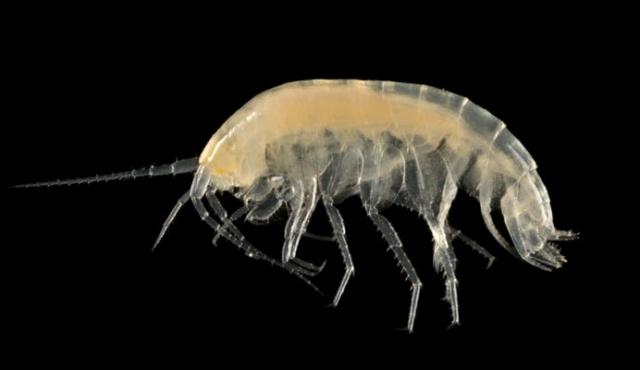 C. subterraneus is not easy to separate from Niphargus without microscopic examination.  The main differences are that in the former the gnathopod hands are longer than broad and the telson is only shallowly emarginated posteriorly.  In Niphargus the telson is deeply cleft and the hands are about as broad as long.  Glennie (1956) observed that live Crangonyx subterraneus kept in captivity crawled upright in silt and never swam or lay on their side, unlike live Niphargus.  A similar behavioural difference is exhibited between epigean Crangonyx pseudogracilis / floridanus and Gammarus pulex.  C. subterraneus is easily separated from C. pseudogracilis (a widespread, naturalised species introduced from North America; C. floridanus, a second species recently detected in British waters by DNA studies is much less common and very hard to separate from C. pseudogracilis morphologically), by its lack of eyes and colouration. Specimens of Crangonyx subterraneus generally tend to average 4 to 6mm in length.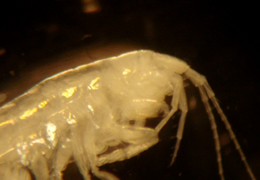 Crangonyx subterraneus was first described by Bate (1859) after examination of specimens collected (along with several niphargids) by the Reverend A. R. Hogan from a well at Ringwood, Hampshire. It has since been recorded from interstitial riverine gravels, wells, boreholes and springs from Kent in the east to Dorset, Devon, and Glamorgan in the west. It is only known from three caves, Gough's cave and Reservoir Hole, both in the Cheddar Gorge on the southern flank of the Mendip Hills and from the lake in Ogof Pant Canol, part of the Ogof Ffynnon Ddu system in Breconshire. The distribution of the species seems to correlate with aquifers in chalk or limestone. Important groups of records include those by: Terry Gledhill from the Waterston Cress beds in Dorset from 1969 to 74; Paul Wood from the spring head of the Little Stour River in Kent and by Three Valleys Water staff from boreholes and wells in Hertfordshire, Buckinghamshire and Bedfordshire. There are important recent records (2011) for the species from a well in an outcrop of oolitic limestone at Beer in south-east Devon, as well as another important record from riverine gravels in the Afon Lluestgota (part of the Rheidol catchment) north east of Aberystwyth, sent in by staff from the Environment Agency. This location is well north of the Devensian limit and has important implications for the distribution of the species. However, no specimen was retained for confirmation and there is some doubt over the correct identification. 
Outside of Britain Crangonyx subterraneus is known from western and central Europe.